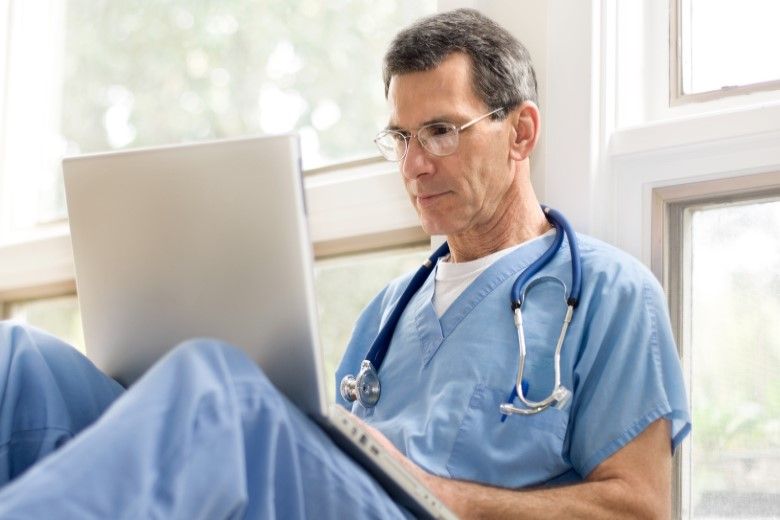 According to a study by Merritt Hawkins, spending on the American health care system has reached approximately $3.5 trillion a year, more than the entire economies of all but six countries in the world. Employment opportunities for medical professionals have been growing along with the spending, and the health care industry has now become the second-largest employer in the United States, according to the Atlantic. Nursing professionals wondering, what can I do with a master's in nursing? will find there are many exciting career paths to choose from in this expanded industry.
Why Choose an MSN Program?
A Master of Science in Nursing (MSN) program can help licensed registered nurses (RN) move up in their careers by becoming an advanced practice registered nurses (APRN) in their selected medical specialty. Nurses choose a unique MSN program to fit their career goals, building upon concepts learned in their Bachelor of Science in Nursing (BSN) program. The core concepts in an MSN program can include the following:
A further study of the health care system, including political and historical factors which impact the delivery of health care to patients
Appropriate assessment and evaluation techniques to address the health care needs across the lifespan of a family using evidence-based strategies to improve overall family health
The effects of medications and treatments on patients and the laws governing prescription authority
After graduation, many students pursue additional certifications to work as licensed APRNs in their selected fields. However, two careers may not require other certifications after graduation.
Nurse Educator. After attaining an MSN, nurse educators can teach a nursing curriculum at colleges and universities. Nurse educators leverage their knowledge of working in a clinical setting to help shape the curriculum and aid students in their coursework. Nurse educators can also be leaders in their industry, helping prepare future nurses for the health care issues of tomorrow.
Nurse Manager/Supervisor. Nurse managers or supervisors are responsible for coordinating nurses in a unit through scheduling, implementing policies, and dealing with questions. Nurse leaders play an important role in the health care system. They are strong advocates for patient well-being, and, by working with other nurses, physicians, and leaders, nurse managers continue to improve how care is delivered. Similar to nurse educators, nurse managers help prepare other nurses to take on leadership positions.
Nurse educator or manager positions can be great options for professionals looking for what to do with a master's in nursing without certification. However, graduate nurses who want to continue to work in a clinical setting will need to obtain advanced certifications to practice as licensed APRNs.
Certifications after Graduating with an MSN Degree
Which certification a nurse should pursue after graduating with an MSN degree depends on the medical field he or she wants to work in. These certifications include the following:
National Certification Examination (NCE). The NCE is administered by the National Board of Certification and Recertification for Nurse Anesthetists (NBCRNA). The certification measures the skills, knowledge, and abilities that are necessary for entry-level nurse anesthetist practitioners. A nurse anesthetist safely provides anesthesia to patients before, during, and after a procedure. The U.S. Bureau of Labor Statistics (BLS) lists nurse anesthetist as one of the highest-paid nursing categories, earning a median salary of $165,000.
Certified Nurse-Midwife (CNM). A CNM provides care to women during their pregnancy, labor, and delivery. Trained to deliver babies and certified by the American Midwifery Certification Board (AMCB), a CNM is prepared to handle complications from delivery such as hemorrhaging. After birth, a CNM provides ongoing care for the mother and newborn, and educates the parents on nutrition and disease prevention. The median salary for nurse midwives is $100,000, according to the BLS.
Nurse Practitioner (NP) Certifications. The American Association of Nurse Practitioners (AANP) states there are more than 248,000 licensed NPs in the U.S. An NP can perform many of a physician's duties such as ordering diagnostic tests, diagnosing illnesses, and prescribing medications. After graduating with an MSN degree, an NP will select a certification in his or her desired field. These certifications can include a pediatric nurse practitioner (PNP), a family nurse practitioner (FNP), a gerontological nurse practitioner (GNP), and a psychiatric mental health nurse practitioner (PMHNP). An NP can work in a variety of health care settings such as hospitals or primary care facilities and can earn a median salary of approximately $103,000, according to the BLS.
Starting an MSN Degree Program
Nursing professionals, who have asked, what can I do with a master's in nursing? will find that this degree can play a vital role in the care of the aging baby boomer generation and the growing number of patients with chronic and acute illnesses. The BLS projects a 31 percent growth in employment for NPs, nurse midwives, and nurse anesthetists between 2016 and 2026.
Earning an MSN degree could be the right step for a nurse wanting to advance his or her career and prepare for the health care demands of the future.
Learn More:
For students who aspire to an advanced career in nursing, Ohio University's online Master of Science in Nursing program helps them gain the skills and experience necessary to take their nursing careers to the next level.
Recommended Reading:
Ohio University Blog, "How Clinical Pathways are Leading Us Towards Patient-Centered Care"
Ohio University Blog, "The Rise of the Robot Nurse"
Ohio University Blog, "BSN vs. MSN: The Benefits of a Postgraduate Nursing Education"
Sources
Merritt Hawkins, "2018 Review of OF PHYSICIAN AND ADVANCED PRACTITIONER RECRUITING" INCENTIVES (PDF)
The Atlantic, "Health Care Just Became the U.S.'s Largest Employer"
National League for Nursing, Nurse Educator Core Competency
The Future of Nursing: Leading Change, Advancing Health
PayScale, Average Clinical Nurse Manager Salary
National Board of Certification & Recertification for Nurse Anesthetists
Bureau of Labor Statistics, Nurse Anesthetists, Nurse Midwives, and Nurse Practitioners
American Association of Nurse Practitioners, News Feed
American Academy of Nurse Practitioners, Available Certifications
American Nurses Credentialing Center, Our Certifications
American Midwifery Certification Board, Certificate Maintenance Program