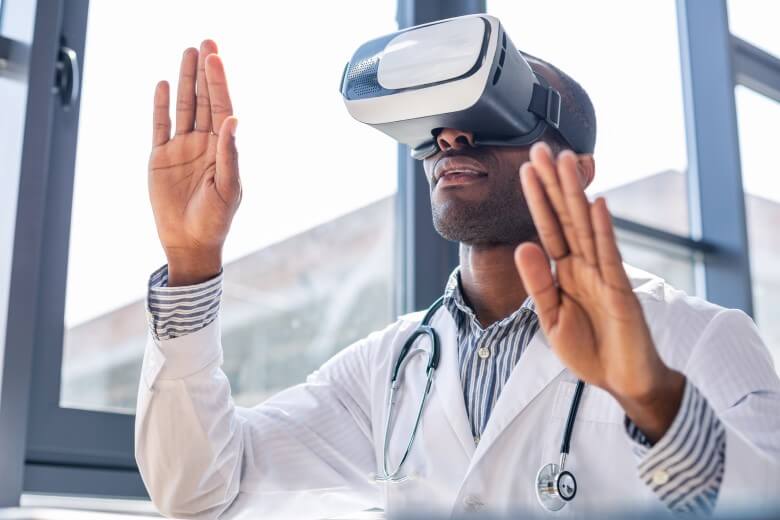 Clinical simulation in nursing education has come a long way. It used to involve using oranges to practice injections and taking a classmate's blood pressure. Today, modernized and technology-driven simulation in nursing education is increasingly popular as a teaching tool. It provides a variety of opportunities for nurse educators to train students without the risks associated with using real-world patients. Most notably, if the student makes a mistake, no patients are harmed in the process.
"Based in part on its success in other industries such as aviation, simulation-based training has therefore emerged as a key component of the patient safety movement and is increasingly being used to improve clinical and teamwork skills in a variety of environments," says the Agency for Healthcare Research and Quality (AHRQ). "When applied properly, simulation-based training allows the opportunity to learn new skills, engage in deliberate practice, and receive focused and real-time feedback."
Simulation-based nurse training continues to grow in popularity as a pedagogical approach. Whether as a faculty member of a college nursing program or on staff at a teaching hospital, today's nurse educators must be prepared to develop teaching strategies that include components of clinical simulation. With many nursing programs involving an online or remote learning component, simulation in nursing education is the next logical step in the hands-on learning process.
An advanced degree program, such as an online MSN, can help prepare registered nurses (RNs) for advanced careers, including as nurse educators. An MSN curriculum for nurse educators focuses on evidence-based instructional strategies and teaching techniques, as well as role development of the nurse educator. Armed with advanced knowledge of nursing theory and practice, nurse educators can pursue opportunities at college nursing programs and teaching hospitals.
Simulation Technology in Nursing
Simulation technology in nursing allows students to practice nursing skills and procedures in an environment that's realistic and immersive, yet completely devoid of risk. The simulation products used for these exercises range from basic anatomical models to more advanced equipment that is extremely lifelike.
The basic models will typically consist of a single limb or one portion of the body; these are used for basic nursing skills such as medication injections or inserting a catheter. With the more advanced simulators, technology is used to replicate a patient's motion and/or sounds, such as that of a heart beating or a lung inflating and deflating.
At its most advanced levels, simulation technology in nursing uses virtual reality (VR) to immerse the student in a computer-generated environment where they may practice their skills and receive tactile feedback. This same technology allows students to learn remotely, which has been invaluable for online nursing programs.    
Why Use Simulation in Nursing Education?
Although simulation education in nursing is still a relatively new concept, the benefits of what it has to offer students can't be denied. The following reasons illustrate why the use of simulation is quickly becoming the standard in nursing education.
Realistic and Safe
Simulations let nurses improve their skills through working in realistic environments before they begin treating live patients. According to a 2021 study from Acta Informatica Medica, "Simulation enables students to work in an environment closely resembling that of a hospital and helps them to gain healthcare and nursing experiences, even before they start working as professionals."
This process allows students to test the methods and knowledge from their education — which includes making errors and learning from them — without harming patients. According to the same study from Acta Informatica Medica, "The students are able to put everything they have been taught into practice, cope with any difficulties and problems, and even make mistakes without causing damage, and all that in a safe environment, without any risk whatsoever for patients."
Trends in Nursing Education
Clinical simulation in nursing education fits with modern trends in the education of nurses. According to a 2021 article published by the professional information source Wolters Kluwer, "Simulation can and should be integrated throughout all nursing education courses…It is a must and research has shown the importance and necessity."
According to the same article, some of the possible implementations for simulation education in nursing include:
End of life care
The situation, Background, Assessment, Recommendation (SBAR) reporting
Risk assessment
Shift reports
Vaccinations
Mass casualty events
Technology is increasingly important and prevalent in today's health care system. Nurses who become proficient with technology through the use of simulations may be better prepared to use such systems during real-life situations. This can reduce health care costs, save nurses time, and improve patient outcomes.
Simulation Methods
According to the Agency for Healthcare Research and Quality (AHRQ), there are several approaches for simulation in nursing education, and depending on the material being emphasized, simulation curricula may employ one or more of these methods:
Part-task trainers: This method is used to train specific clinical skills including phlebotomy or placement of intravenous catheters.
Full-scale simulators: A full-body manikin is one example, which in addition to realistic anatomy offers realistic physiologic simulation such as heart sounds and respirations. These may be used to teach fundamental clinical skills such as conducting a physical examination.
Virtual reality: In this modality, learners are immersed in a highly realistic clinical environment, such as an operating room or intensive care unit. Learners physically interact with the environment as they would in real life, using systems that are increasingly complex and technologically sophisticated.
In situ simulation: This approach refers to a simulation carried out in the actual clinical environment with the providers who work in that location. It may involve the use of part-task or full-scale simulators as well.
Standardized patients: Employing trained actors to simulate real patients has long been used to teach basic history-taking and physical examination skills, and this strategy is also being applied to teach patient safety skills such as error disclosure."
Matching the Method to the Training Goal
Identifying the right type of simulation method is integral to teaching students relevant skills. Nurse educators should be able to weigh several factors when considering the use of high-fidelity simulation. These include the opportunity for repetitive practice, integrating the simulation into a larger curriculum, skill development vs. testing, and determining a method for debriefing or feedback.
A 2020 article from the African Journal of Health, Nursing and Midwifery outlines the importance of "nursing training and nursing care to adopt a method of training that mimics life situation." Some of the procedures that nurses can carry out on simulators include:
Hair and face washing, hair combing
Eye and ear washing
Mouth cavity and artificial teeth care
Oxygen inhaling
Oral and nasal feeding
Injections and blood transfusions
According to the American Association of Colleges of Nursing, more than 80,000 qualified applicants have turned away from nursing schools in 2019. This was largely due to a shortage of nurse educators and a lack of clinical sites and classroom space. Budgetary restraints also played a factor.
Simulation technology in nursing can help mitigate this shortage, allowing nursing students to train in complex, specific procedures. As clinical simulation in nursing education trends upward, so do the opportunities for nurses trained to be educators.
Advance Your Career with an MSN
Simulation in nursing education allows nursing students to develop their skills in an environment that's completely safe, free from risk, and accurately depicts real-world nursing situations. With remote learning and online nursing programs becoming more popular by the year, simulation technology will continue to be integrated into BSN and MSN programs, especially those with remote learning elements.
Ohio University's online Master of Science Nursing program can give RNs the skills and experience to take their careers to an advanced level. With five concentrations to choose from, including Nurse Educator, you can tailor your education to fit your professional goals.
Discover more about Ohio University's MSN program, and start your path toward a career in advanced nursing.
Recommended Readings
How to Become a Nurse Educator
Leading the Next Generation: The Role of the Nurse Educator
Career Opportunities for Nurse Leaders
Sources:
Acta Informatica Medica, "Simulation in Clinical Nursing Education"
African Journal of Health, Nursing, and Midwifery, "Simulation in Nursing Education: Implications for Nurse Educators and Nursing Practice"
American Association of Colleges of Nursing, Nursing Faculty Shortage
JMIR Research Protocols, "Improving the Use of Simulation in Nursing Education: Protocol for a Realist Review"
Journal of Medical Internet Research, "Clinical Virtual Simulation in Nursing Education: Randomized Controlled Trial"
OJIN, Simulation-Based Learning: No Longer a Novelty in Undergraduate Education
The Journal of the Society for Simulation in Healthcare, "Formal Training Efforts to Develop Simulation Educators: An Integrative Review"
Wolters Kluwer, "Evolving Nursing Trends: Simulation, Virtual Reality, and Artificial Intelligence"
Wolters Kluwer, "Evolving Nursing Trends: Technology in 2021 and The Effects on Nursing Students"