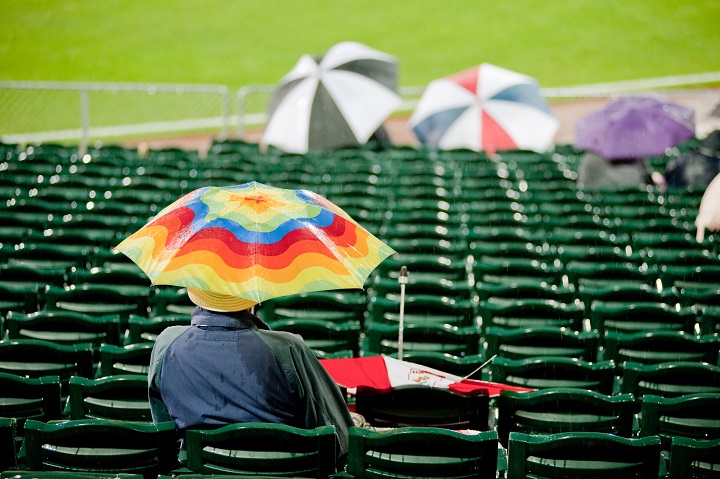 At most schools, athletic directors (ADs) are responsible for planning and managing athletic contests. Ensuring that every game day goes smoothly is no small feat and depends largely upon advance thought and preparation. Most longtime ADs have the process down to a science — and new ones can take advantage of their predecessors' experience to learn and master this aspect of the job.
Would-be ADs can also get a jump on the process by learning some of the necessary skills through academic programs such as Ohio University's Online Master of Athletic Administration. This program offers targeted education for game-day management, such as instruction on using software for contest booking and contracts. This type of specific information, along with general instruction in sports administration, helps to prepare candidates for a wide range of high school sports manager duties.
General Prep Work
Much of the groundwork for successful game days occurs well in advance of specific contests. In a recent article in the magazine Coach & A.D., athletic directors from several high schools share their best tips:
Create game-day manuals. Every competitive sport in your program should have its own game-day manual that covers everything needing to be done for contests and specifies who is responsible for each job. Manuals should be updated yearly to ensure that all information is current and relevant.
Create email lists. When the manual has been created and the responsible personnel are identified, create standing email lists for each sport in your program. Make sure it includes everyone directly involved in the contest, along with anyone else (such as school principals) who wants or needs to be looped in. Lists make sending out contest information easier — plus, you're much less likely to forget anyone.
Make a general checklist. A game-day checklist is a helpful backup to the game-day manual. A checklist should include everything you need to do to prepare for a contest — and like a game-day manual, it should be individualized for each sport in your program. With time and experience, you may not need to depend heavily on the checklist, but glancing over the list occasionally will reassure you that nothing has been forgotten.
Plan for disaster. Imagine everything that could possibly go wrong on game day and decide how you would hypothetically handle it. A likely "disaster" involves adverse weather, but there are any number of more remote possibilities. For instance, Ken Flaten, athletic director at Notre Dame Academy in Green Bay, WI, worries about the possibility of a backboard shattering during a basketball game. "It's never happened, and I hope it never does, but we've got a plan in place of how we'd get that fixed right away and try to continue the event," he says. Think of every possible eventuality, then make a list of phone numbers to call in case of emergency and keep it handy on game day.
Prep your venue. An organized, well-labeled game venue goes a long way toward making your event run smoothly. Long before any contests are scheduled, you can evaluate your facilities and make sure signage for parking, concessions, restrooms, and seating is clear and easy to understand. Following this protocol is especially important for sports that attract big crowds, such as football.
As Game Day Approaches
As you get closer to game day, you need to deal with more immediate tasks:
Communicate with your opponents. Make sure visiting teams are informed about all aspects of the game and venue. Points to cover, according to the National Federation of State High School Associations (NFHS), include where to park the buses, which door(s) they should enter, which locker room they should use and your expectations, and the game/halftime schedule.
Schedule event staff. Make a comprehensive list of staff who will be needed on game day and begin the work of scheduling personnel. Create a detailed description of each position and provide it along with the assignment, so all staff know exactly what is expected on game day. Also make sure that all staff know how to contact the AD in case problems arise.
Organize volunteers. Organizing volunteers goes along with scheduling event staff — although if you have a strong volunteer base, you may have to do little or no scheduling yourself. Trusted volunteer coordinators (who are themselves volunteers) can circulate sign-up lists and make sure all your game-day needs are covered.
Promote the event. Including basic expectations in your game promotional material can help to smooth the way on game day. The NFHS gives the examples of encouraging fans to purchase tickets in advance to reduce ticket-window waits on game day or publicizing the fact that bags will not be allowed into the game venue to manage fan expectations.
On Game Day
After all the work of preparation, some suggestions to ensure that game day goes smoothly include:
Prepare an emergency kit. Make sure certain essentials are assembled and keep them with you at all times. Suggestions from Coach & A.D. include pens and paper, cellphone, keys to all school doors, batteries, walkie-talkies, umbrellas, flashlights, and trash bags. Adjust the list to suit your particular needs.
Shield your coaches. On game day, the coaches are there to coach. They should not be bothered or distracted with anything else. If you see a problem, handle it without them.
Keep a watchful eye. If everything has been set up correctly, game day should proceed as planned — mostly. But every AD knows to expect the unexpected. You can't anticipate every glitch, but you can have confidence in your ability to manage surprises. Keep a close eye on everything as much as possible and intervene as necessary to solve problems before they get out of hand.
After the Game
Gameday is over, and ADs can breathe a sigh of relief. But as you give yourself a well-deserved pat on the back, take a moment to reflect. What went well? What didn't? What could you do better or differently next time?
Be honest in your self-assessment and use your experience to make the next game day even better.
About Ohio University's Online Master of Athletic Administration Degree
Ohio University's Online MAA program is designed to teach professionals how to successfully approach sports administration positions. The university launched the nation's first academic program in sports administration in 1966 and continues to be a leader in sports business education.
Ohio University's Online MAA program is housed within the university's College of Business, underscoring its dedication to providing world-class sports business education.
The program works in collaboration with the National Intercollegiate Athletic Administrators Association (NIAAA) to prepare graduates for certification and is accredited by the Commission on Sport Management Accreditation (COSMA). For more information, contact Ohio University's MAA program representatives now.
Recommended Reading:
Athletic Directors: Planning for the Season
Effective Leadership of Sports Programs
An Athletic Director's Responsibilities and Career Outlook
Sources:
General prep work – Coach & A.D.
As game day approaches – National Federation of State High School Associations
On game day – National Federation of State High School Associations
After the game – Coach & A.D.