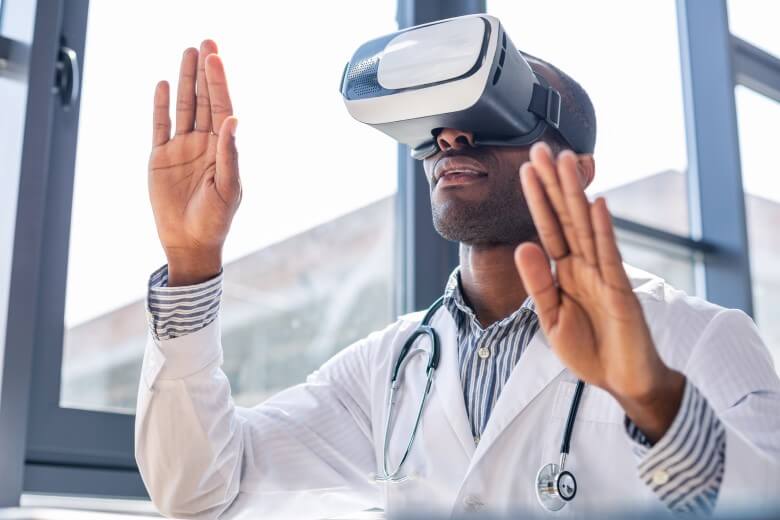 Clinical simulation in nursing education has come a long way from using oranges to practice injections and taking a classmate's blood pressure. Today, simulation-based training as a teaching tool for nursing students is increasingly popular and provides a variety of opportunities for nurse educators to train students without the risks associated with real-world patients.
"Based in part on its success in other industries such as aviation, simulation-based training has therefore emerged as a key component of the patient safety movement and is increasingly being used to improve clinical and teamwork skills in a variety of environments," the Agency for Healthcare Research and Quality (AHRQ) said. "When applied properly, simulation-based training allows the opportunity to learn new skills, engage in deliberate practice, and receive focused and real-time feedback."
Simulation-based nurse training continues to grow in popularity as a pedagogical approach. Whether as a faculty member of a college nursing program or on staff at a teaching hospital, today's nurse educators must be prepared to develop teaching strategies that include components of clinical simulation.
Ohio University's online MSN program can help prepare registered nurses (RNs) for advanced careers, including as nurse educators. The MSN curriculum for nurse educators focuses on evidence-based instructional strategies and teaching techniques, as well as role development of the nurse educator. Armed with an advanced knowledge of nursing theory and practice, nurse educators can pursue opportunities at college nursing programs and teaching hospitals.
Realistic and Safe
Simulations let nurses improve their skills – which includes making errors and learning from them – without harming patients.
"Simulation presents opportunities to reproduce both rare and frequent clinical events in a realistic manner as often as needed," Patrick Lavoie, Ph.D., RN and Sean P. Clark, Ph.D., RN, wrote in the journal Nursing2019. "Simulation has long been utilized to train nurses and other providers in CPR; it's now used in most nursing specialties for various other purposes, including physical assessment, communication, and collaboration."
Patient safety is paramount in the consideration of clinical simulation. Nursing students can practice skills in a high fidelity, or very realistic, learning environment that doesn't put actual patients at risk.
A study published by the National Center for Biotechnology Information noted that "simulation-based clinical education is a useful pedagogical approach that provides nursing students with opportunities to practice their clinical and decision-making skills through varied real-life situational experiences, without compromising the patient's well-being."
Trends in Nursing Education
As a means of teaching skills and evaluating, clinical simulation in nursing education fits with the trends in nursing education as presented by Suling Li, Ph.D., RN, for the National Council of State Boards of Nursing (NCSBN). Li outlined these education trends:
Providing more experiential learning opportunity than instruction
Increased use of learning technology
More emphasis on outcome-based than process-based education
More evidence-based education strategies and curriculum
The NCSBN supports clinical simulation to "ensure patient safety, promote better preparation of new nurses, support innovative teaching strategies, and overcome faculty and preceptor shortages and lack of clinical sites."
Simulation Methods
According to the AHRQ, "there are several approaches to simulation training, and depending on the material being emphasized, simulation curricula may employ one or more of these methods:
Part-task trainers: Used to train specific clinical skills including phlebotomy or placement of intravenous catheters.
Full-scale simulators: A full-body manikin is one example, which in addition to realistic anatomy offers realistic physiologic simulation such as heart sounds and respirations. These may be used to teach the fundamental clinical skills such as a physical examination.
Virtual reality: In this modality, learners are immersed in a highly realistic clinical environment, such as an operating room or intensive care unit. Learners physically interact with the environment as they would in real life, using systems that are increasingly complex and technologically sophisticated.
In situ simulation: This approach refers to simulation carried out in the actual clinical environment with the providers who work in that location. It may involve use of part-task or full-scale simulators as well.
Standardized patients: Employing trained actors to simulate real patients has long been used to teach basic history-taking and physical examination skills, and this strategy is also being applied to teach patient safety skills such as error disclosure."
Matching the Method to the Training Goal
Identifying the right type of simulation method to employ is an important part of a nurse educator's role. Li said this decision "should be driven by the educational goal or objective, should match the level of the student," and "the higher the realism, the more effective it is in engaging the student."
Nurse educators should be able to weigh several factors when considering the use of high-fidelity simulation. These include the opportunity for repetitive practice, integrating the simulation into a larger curriculum, skill development vs. testing, and determining a method for debriefing or feedback.
"The variety of simulation-based learning options can offer a way to replace traditional, and often hard-to-find, clinical experiences," said Michelle Aebersold, Ph.D., RN.
Lavoie and Clark recommend that nurse educators who want to use clinical simulation successfully be well trained in "identifying clear learning goals, creating a safe learning space, and ensuring carefully planned debriefing apply equally to simulations used for orientation, competency assessment, and continuing education."
As clinical simulation in nursing education trends upward, so do the opportunities for nurses trained to be educators. According to the American Association of Colleges of Nursing, more than 75,000 qualified applicants were turned away from nursing schools last year because of a shortage of nurse educators.
Ohio University's Online Master of Science in Nursing (MSN) Program
Ohio University's online MSN program is designed to offer RNs the skills and experience necessary to take their careers to an advanced level. The nurse educator concentration focuses on evidence-based instructional strategies and teaching techniques, as well as role development of the nurse educator. For more information, visit OHIO's online Master of Science in Nursing web page today.
Recommended reading:
Shaping the Future of Health Care: The Role of Nurse Leader
How to Become a Nurse Educator
Leading the Next Generation: The Role of the Nurse Educator
Sources:
Simulation Training: AHRQ/PHNet
Simulation in Nursing Education: Nursing 2019
Effectiveness of simulation based nursing education depending on fidelity: a meta-analysis: NCBI.NLM.NIH.gov
The Role of Simulation in Nursing Education: A Regulatory Perspective:  NCSBN
Simulation Based Learning: No Longer a Novelty in Undergraduate Education: OJIN
Nursing Faculty Shortage: AACN