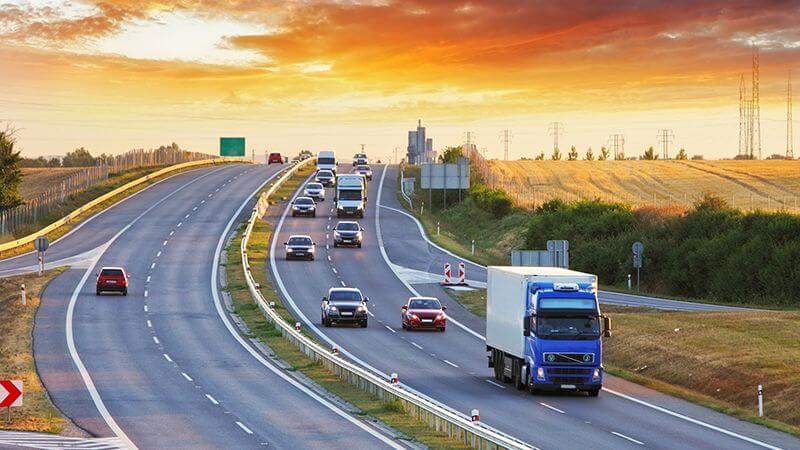 In 1956, President Dwight D. Eisenhower passed the Federal-Aid Highway Act, effectively creating the Interstate Highway System. This system was meant to provide a safe and efficient travel route across the continent, and for the past 60 years, these highways have helped improve the lives of all Americans. As more drivers hit the road with each passing year, the Interstate System suffers from increased traffic congestion that it was not built to handle.
Traffic congestion is an excess of vehicles on the road, resulting in the slowing and sometimes stopping of the flow of traffic. Seven factors interrupt the flow of traffic and cause congestion, according to the Federal Highway Administration: traffic incidents, work zones, weather, normal traffic fluctuations, special events, traffic control devices, and physical bottlenecks. Congestion performance metrics, which measure the temporal and spatial aspects of congestion, are collected from roadways sensors as well as special vehicles that assess travel time and monitor citywide trends.
The five states with the most congested highways in the nation are:
California
California is consistently the state with the most highway congestion in the United States. According to a study by TRIP, a national transportation research group, California leads the country with 85 percent urban interstate congestion. As the population in this state continues to grow, congestion will only increase. California continues to rank as having the worst congestion in the country because of its densely populated cities. Los Angeles, for instance, has a highway congestion level that ranks 12th in the world, second in all of North America. The city is also home to six of the 10 most congested highways in the United States. San Francisco is another highly congested city, ranking 30th in the world and third in North America, respectively.
Maryland
Maryland has risen to become the second most congested state in the U.S. with 75 percent urban interstate congestion. In 2014, the average lane mile in Maryland carried 18,425 vehicles every day. According to another study by the nonprofit group TRIP, Maryland's congestion is influenced by 30 bottleneck locations in Baltimore alone. Bottlenecks are created by poor highway design, lane interruptions, badly timed lights, and other interferences.
New Jersey
The third-ranked state in the U.S. is New Jersey, with 73 percent urban interstate congestion. Congestion is a major issue for the state of New Jersey due to several incredibly busy roadways such as the Lincoln Tunnel, one of the busiest roads in the country. The tunnel alone causes 3.4 million hours of delay and costs $87 million in lost time annually. New Jersey motorists also have to deal with the third-longest commute time in the U.S. Traffic jams and congestions are spurred by a growing population—the majority of which commute in single-occupancy cars.
Rhode Island
Rhode Island comes in fourth with 63 percent interstate congestion, which is mainly the result of the current poor condition of the bridges throughout the state. Rhode Island ranks highest among U.S. states for percentage of structurally deficient bridges, with 15 percent of their interstate bridges qualifying. In addition to a substantial deterioration of these bridge's major components, 32 percent of the bridges in Rhode Island are functionally obsolete. These bridges are plagued by lanes that have narrow lanes, poor alignment, and inadequate clearances that are well under the modern standards of today's designs. These deteriorating bridges pose a threat to the safety and result in time and money lost by both the state and its citizens. Unfortunately, inadequate funding makes it difficult for state officials and civil engineers to address these issues.
Delaware
Rounding out the top five, though on par with Rhode Island at 63 percent urban interstate congestion, is Delaware. The state of Delaware faces its own set of issues influencing the flow of highway traffic. More than 10 percent of the pavement in Delaware's highway system has been reported to be in poor condition. Driving on poorly maintained roads puts a serious financial burden on motorists, costing roughly $328 million per year in vehicle operating and repair costs – about $448 per driver, per year. Delaware has also seen an increased population growth of 21 percent between 2000 and 2015, which resulted in a 16 percent increase in vehicle traffic. Like many states in the country, long-term funding is an issue preventing the repair of these damaged roads and highways.
As the nation's Interstate System ages and as the total number of drivers continues to grow, the condition of our roads and bridges will progressively deteriorate without significant investment in repair and modernization of this aging infrastructure. The Federal Highway Administration conducted a study that found that $100 million in safety improvements would save 145 lives over 10 years. In addition to increased safety, highway improvements made by civil engineers would save commuters both time and money. Civil engineers, the technical experts who can do this work, are essential to meeting the needs of a growing population.
Learn More
For more than a century, Ohio University's Russ College of Engineering and Technology has been teaching engineers how to create for good – how to engineer a better future with responsible and sustainable design. Learn more about our online Master of Science in Civil Engineering program and master how to effectively supervise, plan, design, construct, and operate the infrastructures essential to connect the modern world.
Recommended Readings
Ohio University Blog, "Millennial's, Cars and the Future of Transportation"
Ohio University Blog, "The Future of Driving"
Ohio University Blog, "Civil Engineer's Look at Roads and Highways"

Sources
History.com, The Interstate Highway System
Livetrucking.com, Here are the top 10 most congested highways in America
Maryland State Library, Congestion in Maryland, Bumper Report
Tripnet.org, "News Release: Rhode Island's Interstates Are Among Most Congested In U.S. As Nation Marks 60th Anniversary of Interstate System"
Reason.org, "22nd Annual Highway Report The Performance of State Highway Systems" (PDF)
Tripnet.org, A National Transportation Research Nonprofit